Reflective Materials

3H HIGH GLOSS REFLECTIVE MATERIALS
High Quality︱High Reflective︱High Brilliant
---
PAIHO introduces 3H high-quality reflective materials with high brightness which meets EN471 and CNS4345 standards and can be applied to footwear and garments' piping and webbing.

---

6 available colors: Silver, Blue, Gold, Dark Grey, Magenta, Chameleon Multi-color.
Average reflective effect of 500 CPL (at least 350 CPL is guaranteed).
RoHS non-toxic testing: Pass.
---
reflective film︱converted materials
By high-frequency embossing, perforating, laser-cutting, lamination process of reflective film, we present the diversity of reflective materials on textiles and converted products.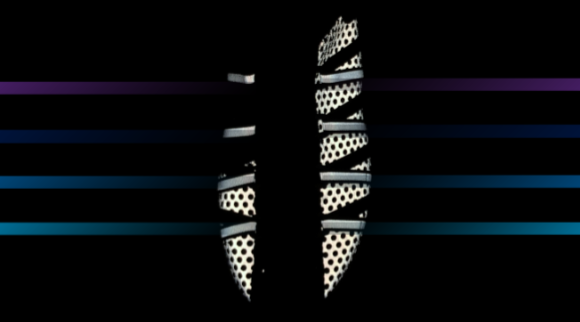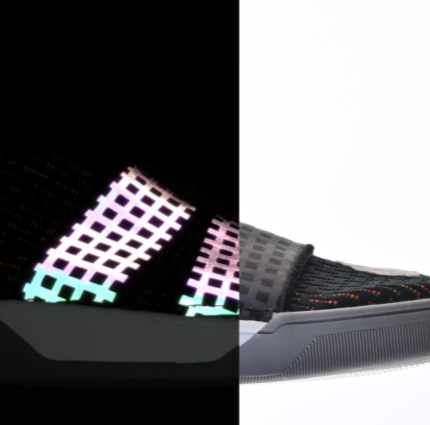 Perforated Multi-color Reflective Elastic Band
PAIHO introduces perforated multi-color high-brightness reflective film attached on elastic band to reveal diversified reflective colors on shoe upper.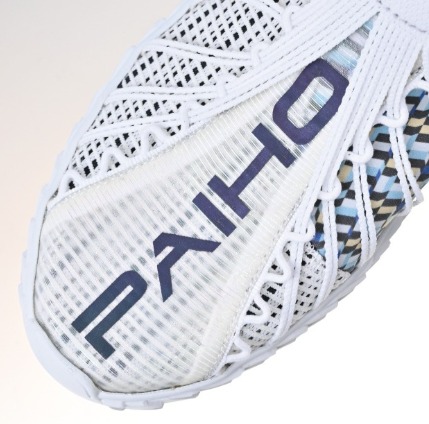 Reflective Label
Laser-cut reflective film being attached on woven jacquard tape to deliver unique reflective patterns in the dark.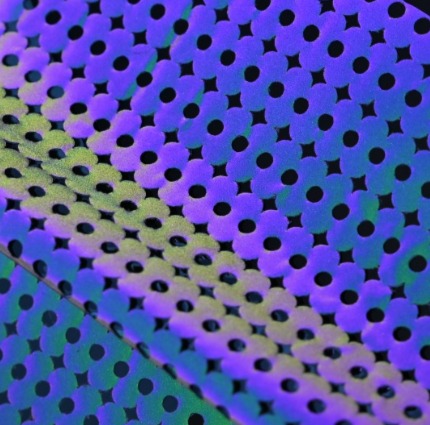 Chameleon Multi-color Reflective film (Perforated)
Perforated multi-color high-brightness reflective film with diversified reflective colors.
---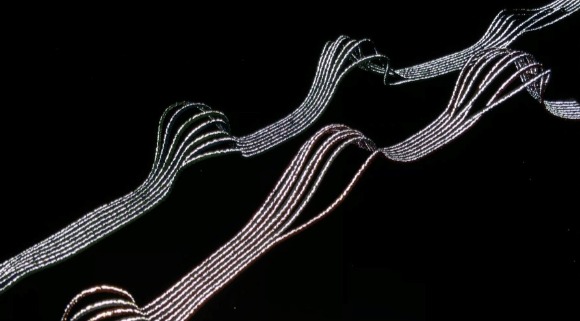 REFLECTIVE YARN︱CONVERTED MATERIALS
Delicate reflective yarn & twisted yarn specification from 1/69" to 2mm. Patented multi-strand knit textile structure with computerized knitting machine from Europe and multi-color reflective yarn to present the reflective effect like milk way.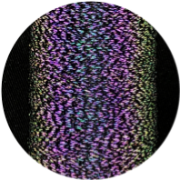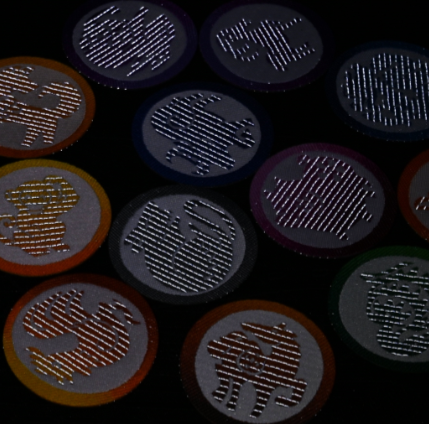 Reflective Digital Woven Label
Aesthetics and function: jacquard woven fabric and digital woven label weaving with reflective yarn to secure the safety.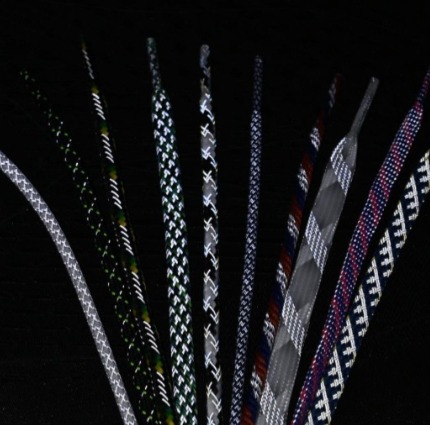 Reflective Braided Shoelace
3/4/5mm shoelace with refined and thin multi-color reflective yarn to present reflective aesthetics and can reflect light coming from any angle.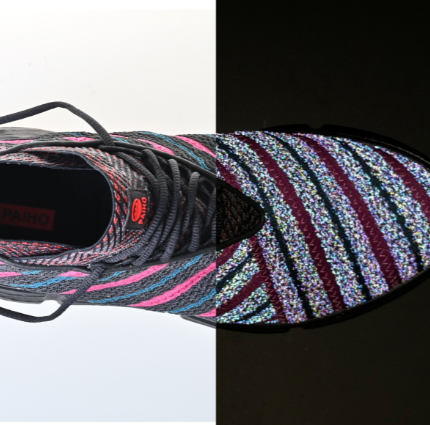 Reflective Grid Knit Tape
SPARTA strap-net shoe upper with air-permeable knit tape with grid textile structure and reflective yarn.
---
REFLECTIVE TETRAHEDRON MICROCRYSTALLINE︱CONVERTED MATERIALS
PAIHO patent licensing "Galaxy II Reflective Tetrahedron Microcrystalline" material with post-processes of TPU injection,multi-layer/color ultra-soft silicone dipping, screen printing.
REACH (Registration, Evaluation, Authorization and Restriction of Chemicals)

SVHC (Substance of Very High Concern) test result: NOTDETECTABLE.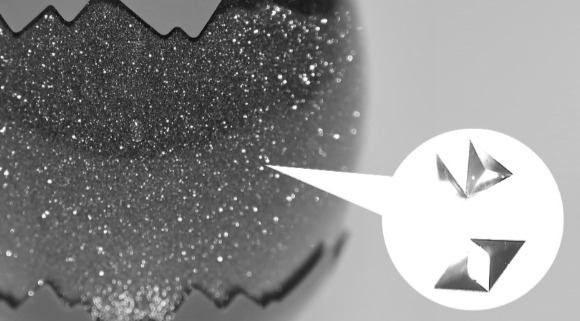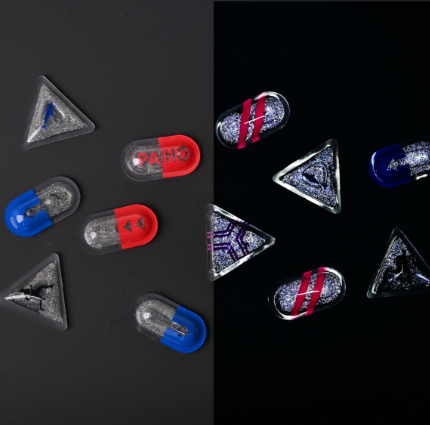 Galaxy II Fluid Reflective 3D Label
Paiho introduces retro 3D label with a dynamically fluid reflective effect for safety. Molded size, shape, and screen-printed patterns of the label can be customized. Applicable for sporting shoe / bag / outerwear / headwear / accessories.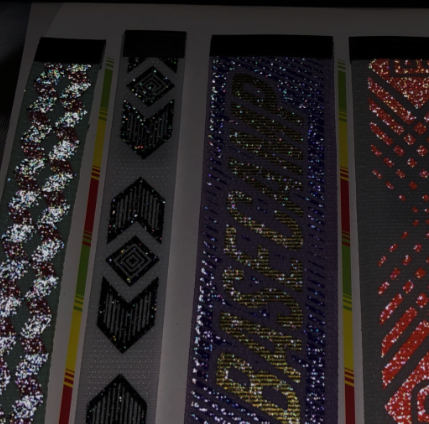 Galaxy II Reflective Stretchable Touch Fastener
Patented touch fastener with slight stretchability. Reflective Tetrahedron Microcrystalline reflective material for screen printing process and presents gorgeous light-reflecting effect.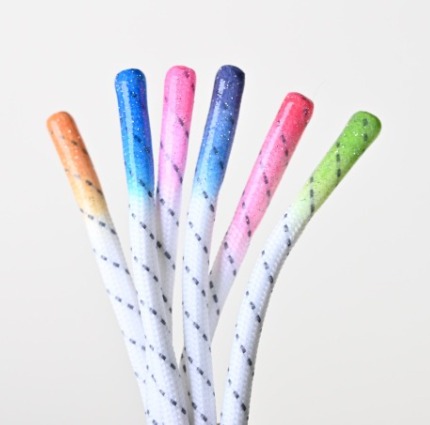 Galaxy II Reflective Silicone Dipping Tips
Reflective Tetrahedron Microcrystalline with post-processes of ultra-soft silicone dipping for cord tips.
---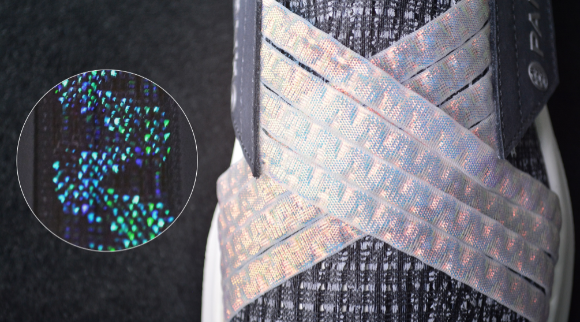 RADIANT LIGHT FILM︱CONVERTED MATERIALS
Translucent radiant film tape weaving with 3M radiant film which has glossy reflections at different angles and brings futuristic aesthetic. It can be used for heel tapes, eyelet webbing and fastening tapes on shoes.
Various patterns available and can be customized according to the design specification.

Radiant light yarn specification: 1/69", 1mm and CM592 (blue) and CM500 (pink) radiant light yarn colors in stock.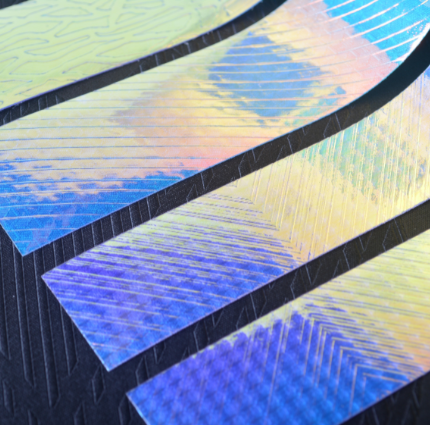 Dazzling Translucent Radiant Film Strap
Introducing glossy 3M radiant film decorative fastening tape with translucent TPU woven fabric and applicable for shoe upper, logo label & patch, luggage outer.
CM592 (blue) and CM500 (pink) radiant light film colors in stock.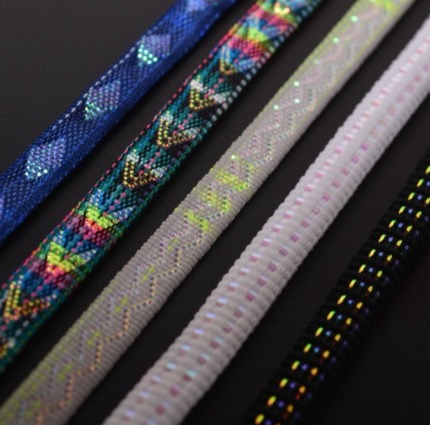 Radiant Film Woven Jacquard Shoelace
Glossy reflection of delicate radiant film and delicate jacquard geometric patterns. It's applicable to shoelace & accessories.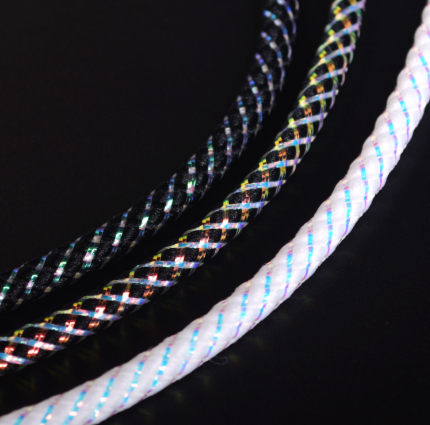 Radiant Film Braided Drawcord
Glossy reflection of exquisite radiant film applied to braided drawcord for apparel & accessory collections.